Ask and ye shall receive! That's right folks, we're about to release an update that will solve three of the most voted on feature requests for Colonist.io, all around improving the game speed timers:
Additional time for initial build phase (link)
Increasing times for Robber, Discarding Cards, and Rolling Dice for Slow and VerySlow modes (link)
Rolling 7 after having placed a knight results in 15 second turn bug (link)
After listening to your feedback, the updated game speeds will use the below times: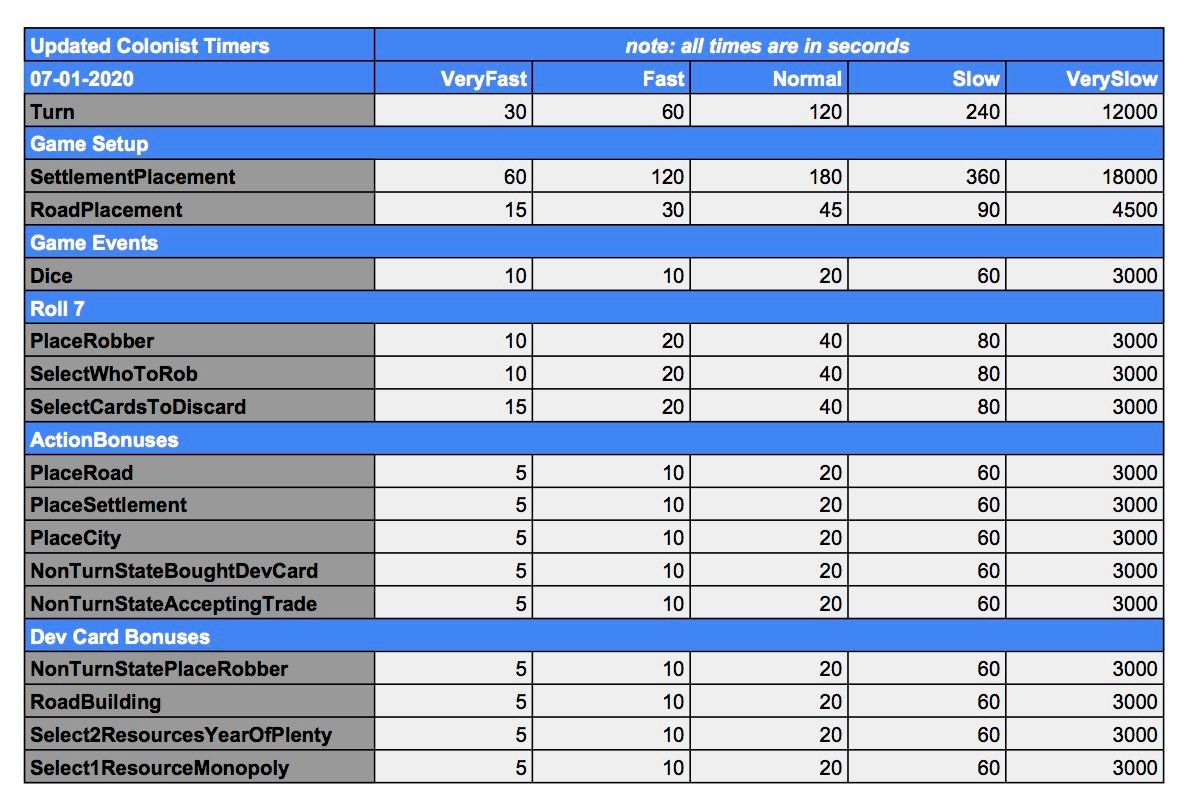 🔥 We'd like to give a HUGE shoutout to Jeff d'Eon, who has been the wiz behind making most of these changes. 🔥 If you're interested in helping with the development of Colonist, fill out this dev contributor form and we'll reach out if it feels like a good match!  
Here's a breakdown of each requested feature / bug fix:
(1) Longer Initial Build Phases
One of the biggest issues you had with the Fast and VeryFast modes was that the initial build phase was too fast. You liked 30 second turns for VeryFast mode, but wanted a bit more time to decide where to initially build, especially if you were the first player.
This concern was raised across the board for all game modes, so, based on your requests, we've updated the initial build times as follows:
VeryFast: 60 seconds
Fast: 120 seconds
Normal: 180 seconds
Slow: 360 seconds
VerySlow: 18000 seconds
(2) Increasing Time for Robber, Discarding Cards, and Rolling Dice
We love hearing about all of the tournaments and leagues that are being run using Colonist.io, and we make it a priority to listen and respond to the issues our super competitive players are having. After receiving some great help from so many of the great players in the 'King of Catan' Discord server (special s/o to Treecksaurus, Takeshi, Stroom, Hawkeye, vamoscosmos719, Stocky_ranger, Yeloow82, Austin, JUAN, Corvetti.C, DragonSnail464646, bobthebandit, b4usiddhu2 and many others) along with your requests on featureupvote, we've implemented the below changes.
Updated times for (1) Placing Robber, (2) Selecting Who To Rob, and (3) Discarding Cards:
VeryFast: 10 seconds (no change)
Fast: 20 seconds (no change)
Normal: 40 seconds (no change)
Slow: 80 seconds
VerySlow: 3000 seconds
Updated times for Rolling Dice:
VeryFast: 10 seconds (no change)
Fast: 10 seconds (no change)
Normal: 20 seconds (no change)
Slow: 60 seconds
VerySlow: 3000 seconds
(3) Rolling 7 After Having Placed A Knight Results In 15 Second Turn bug
This was another one that negatively affected the Slow and VerySlow games most, especially for tournament / league play. And of course your votes on featureupvote.
We've fixed this bug for you, so it won't be a problem anymore.
What's Next
We hope solving these issues will make Colonist an even more fun experience for all of you, but don't worry, we're not done yet. Here's a quick list of what we're working on next. Be sure to join our Discord (invite link) to stay updated on when new features are released.
Fixed - v84
VPN bug
Disconnection issues
Fixed & Being Tested Now - v85 - To Be Released on July 8
Profile bug - profiles will now load much faster and you'll see the latest 100 games
Timer updates (see above article lol)
Being Worked On Now
Disconnection Issues - Additional disconnect issues will be fixed  
Blocking / Reporting Feature
Removing Lobby Chat - This is also a measure to reduce racism and toxicity. We've seen your reports about that in the lobby chat. We want to be clear: We have no tolerance for either of those things in Colonist.
Fix Bank Distribution When Bank Empty (once fixed, rule will work as follows: "If after rolling the dice, there are not enough resource cards of one kind to give every player, no one will receive a card of this kind.")
In addition, we're making great progress on the new store. Once that's done, we'll dive into expansions. Full overview of our roadmap here.
And to our players: thanks as always for all of your support and feedback - we would be nothing without you.