The Trade of a Lifetime
One of our long-term players Adam proposed to his girlfriend Zoe, also a passionate fan, during a game of Colonist. Read about this magical and completely unique marriage proposal!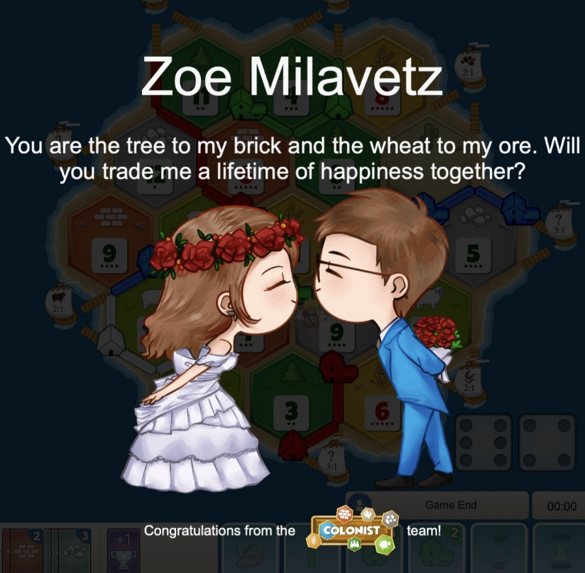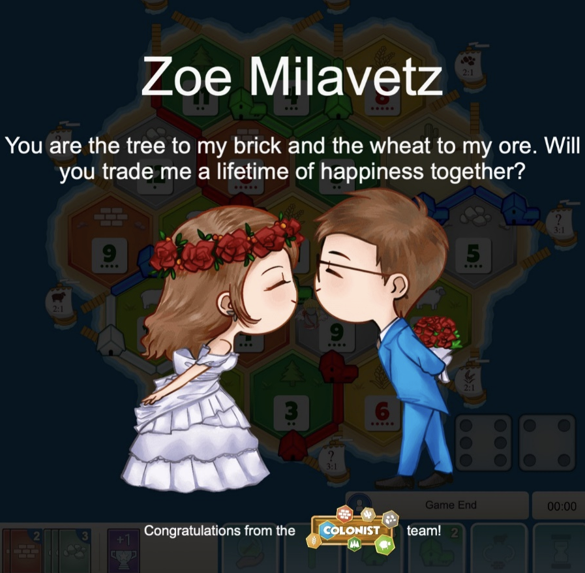 Remember when proposals were all about getting down on one knee and popping "the big question"? Well, it's 2022 now and thanks to the pandemic, we're having to think outside the box.
This is particularly true for Adam, who turned to Colonist to propose to his then-girlfriend, Zoe.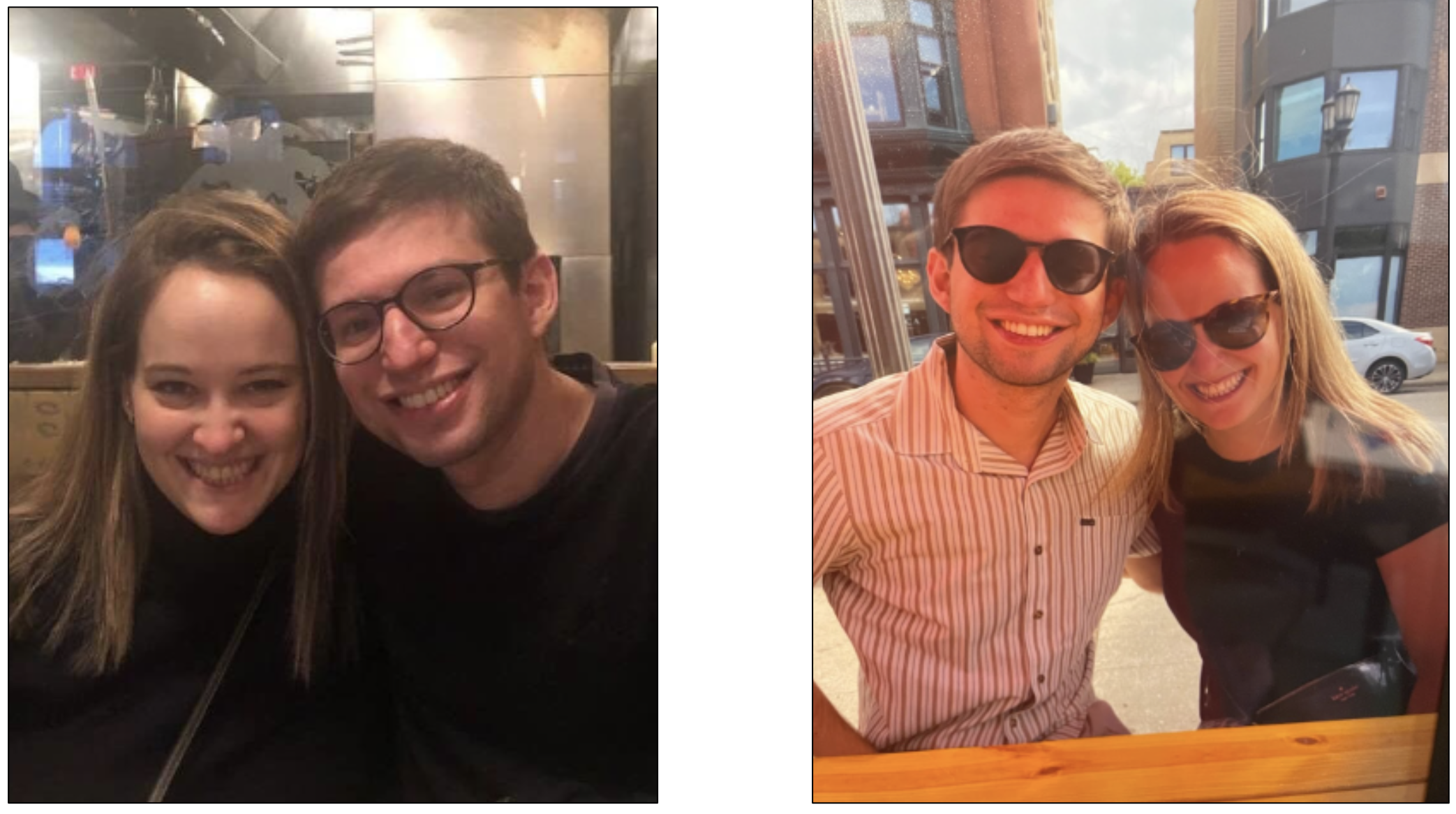 Adam and Zoe have been fans of Catan for years. Due to quarantine mandates early in the pandemic, they began playing Colonist with their friends as a way to enjoy the game virtually. Since most of their evenings were occupied with Colonist, the game gradually became quite special to the couple. Once Adam knew he wanted Zoe to be a part of his forever future, he knew he needed to incorporate Colonist into "the big question".
You might wonder: how does one sneak in a proposal in the midst of building roads and settlements? Well, Adam took it a step further and turned to us for help with his mission. He tracked us down and shared his plan to propose. Luckily for Adam, we were just as enthusiastic about the idea as he was!
While working with Adam over a couple of months, we built a pun-filled and fitting pop-up, ideal for a digital fairy tale. Our engineer and tech-savvy team worked countless hours constructing and testing it with Adam to make sure the messaging and delivery was flawlessly executed – we only had one shot to ensure it worked perfectly! We even found out the make and model of Zoe's laptop, including the browser she uses to play, so the visuals were immaculate for her. Take a look at how our combined efforts brought Adam's vision to life – complete with personalized avatars.
On the pre-determined 'big day', Adam and Zoe were playing in-person with some friends, while a few other friends joined virtually. Our team made sure that once their game concluded, the pop-up appeared on screen and drew the attention of all players – especially Zoe!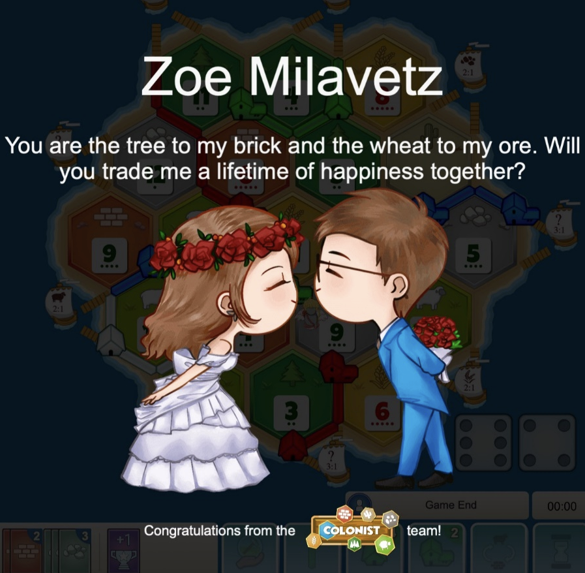 Immediately after she read the message, a friend began recording the precious moment and it was clear Zoe said yes, as her enthusiastic screams and cries of delight could be heard in the background. How could one say no to such an adorable display of commitment? Cheers of congrats could be heard in the distance as the couple were in a happy embrace – cue the awww's.
The pure joy and happiness on the couple's faces.
We definitely hear wedding bells in Adam and Zoe's future. It is safe to say Colonist is officially more than just a game for the engaged couple. Thanks to their love for Catan, we were able to be a part of their proposal. Our gaming world has become the beginning of their forever after and the story they will be sharing for years to come – now that is something we can celebrate and be proud of.
Cheers to Adam and Zoe – we wish them the best on their journey to building their own largest army!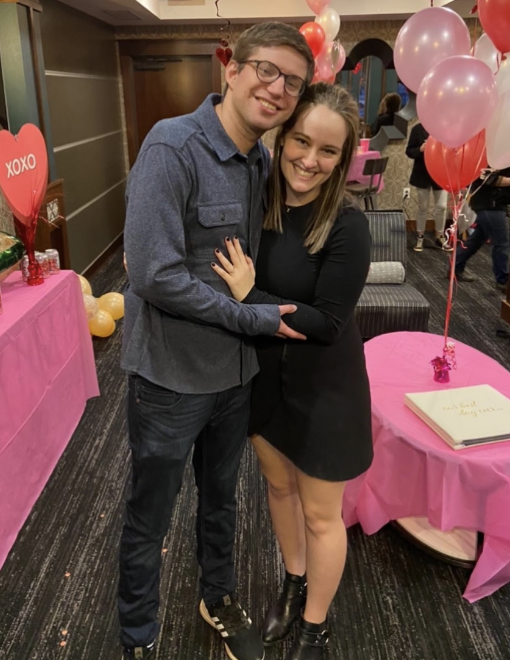 Written by: Momina Tariq