Colonist Championship 5: What You Need To Know To Win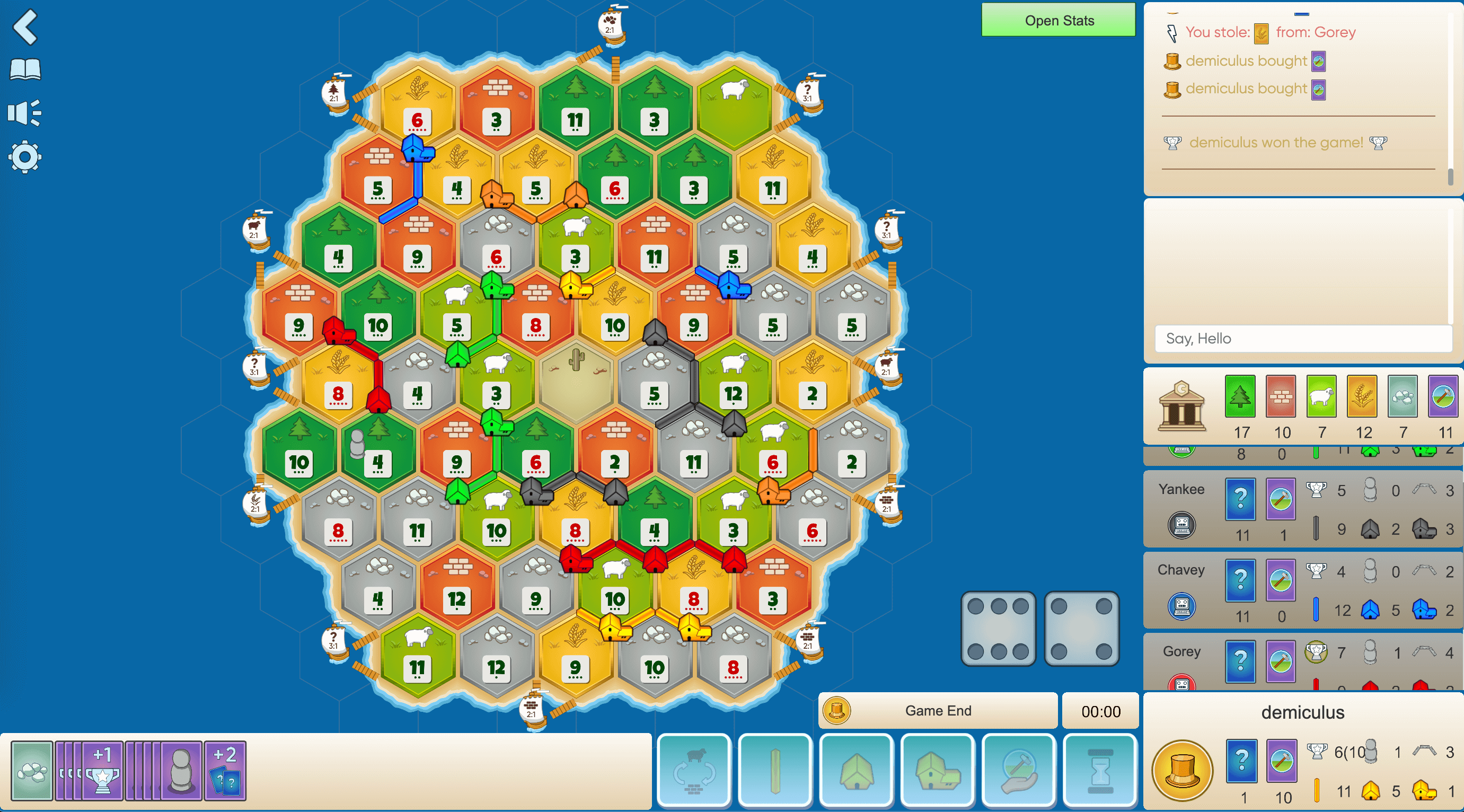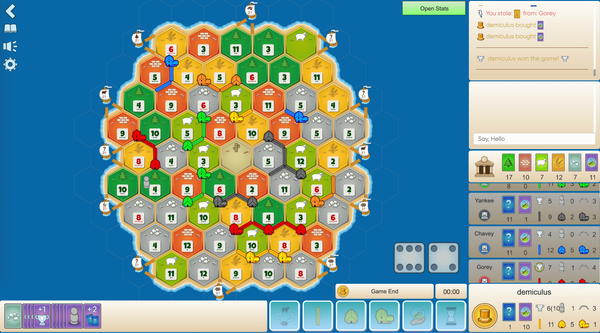 Dear potential Colonist Championship 5 winner,
To improve your chances of winning the Colonist Championship 5 tournament, I have prepared a few game-play tips, as well as the rules, dates and everything you need to know before the tournament starts.
Let's get started!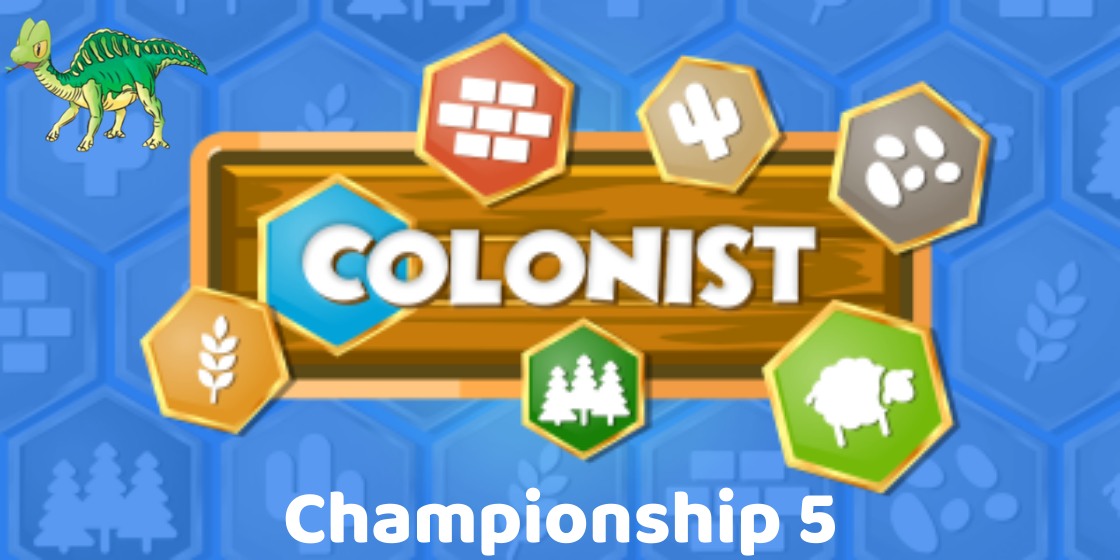 Who: Everyone who likes playing Settlers of Catan
Where: colonist.io and discordapp.com
When: 4th of April -- Start 2 PM - 10 PM (UTC/GMT +0)
Tournament details:
Group Stage (swiss of 3 different tables)
Quarter-Finals
Semi-Finals
Final
Prize pool: $350! More details below.
Full schedule below.
Let's jump right into the most important changes, shall we?
Changes:
Because of the coronavirus, I expect a lot of players to participate April 4th. This will create a couple new challenges and here's how I try to tackle them:
Quarter-Finals
So, to make the chances of moving on from the swiss-phase more likely, I've added a 64-player Quarter-Finals.
So this means: the 64 players who perform best in the first three games, move on to the Quarter-Finals.
Isn't that sweet?
Check-In Phase
Although I truly liked how we previously did the check-in phase for the Colonist Championships, it costs a lot of time...
Now, with the new system, everyone can check-in a lot faster!
(I can process it faster, that is)
When the check-in phase starts, I post a Check-In Form in the Colonist Discord, which players - who have signed-up for the tournament - can fill out.
Then you're checked-in.
It's that simple!
Results Submission
Another process I've changed is the results submission. The new process is as follows:
Every player fill outs the VP Submission Form;
The winner takes a screenshot and uploads it in the #-tournament-screenshot channel.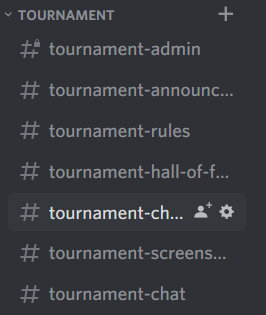 If you do this, it helps me a ton! And helping me, helps you, because I can help you more now :)
Back-Up Squad
The back-up players will return, so we will have 4-players games only! I liked this feature a lot last tournament.
Joker
The Joker-feature won't return in Colonist Championship 5. If you don't know what it is, don't worry.
To get an indication of the skill-level required to make it to the finals, you can watch this video I've made covering the first Colonist Championship:
How to join:
Once you're in the server, everything will be made clear.
How to compete:
Make or join a room on Colonist
You can find your opponents in the Discord-server, when the brackets are released!
When you play a match, the host can just select Tournament Mode. It has the following settings: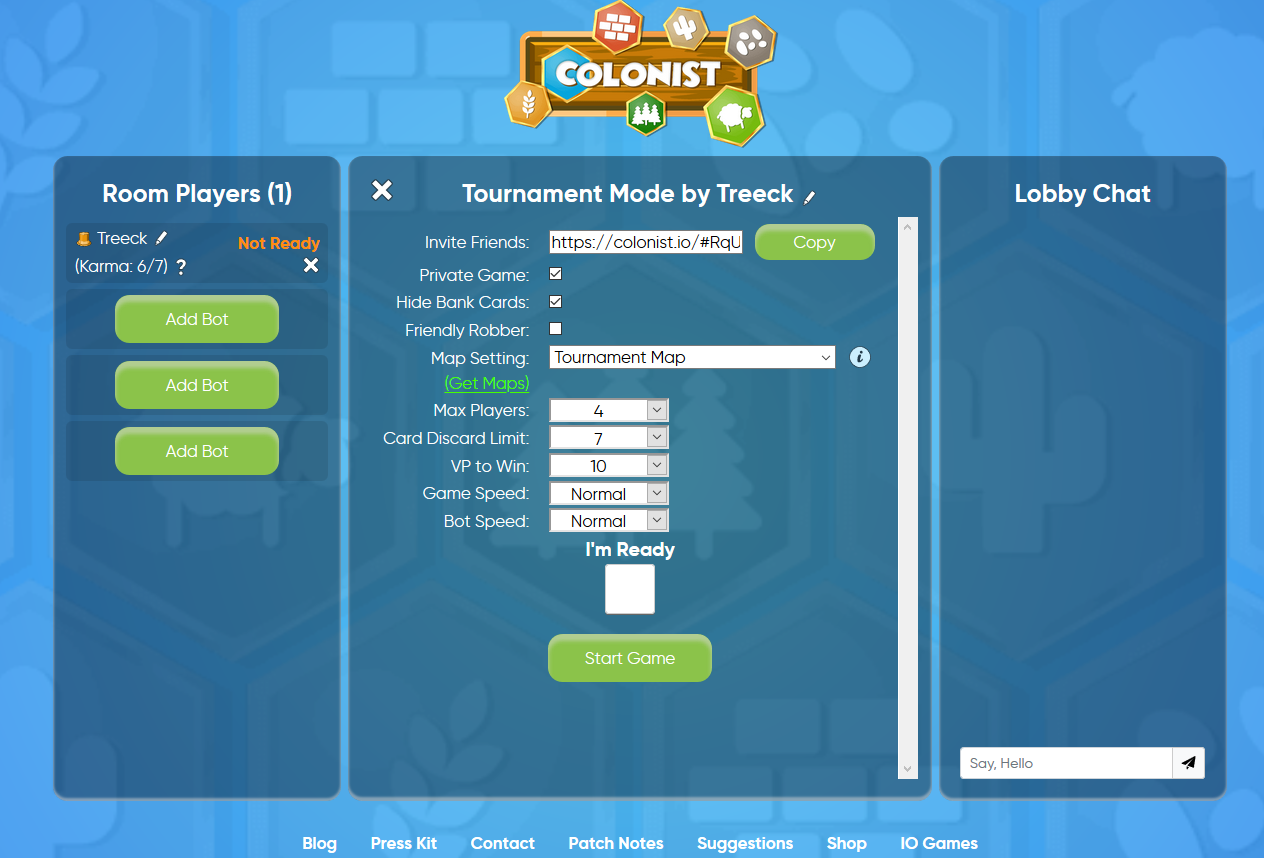 Group stage tie-breakers:
Total Wins
Total amount of Victory Points
(Sum of your points in all your games) / (Sum of all players points in the games you played) = Your point percentage
The order in which the players registered to the tournament
The next block is common sense, I hope... :)
Terms & Conditions:
You are not allowed to join with more than one account
If a player disconnects or leaves the game, he/she can connect within 180 seconds and continue the game;
The game starts when the map has loaded;
Being abusive by spamming, harassing, threatening or insulting other players in chat on colonist.io or on challonge.com is not a tolerated behaviour and will result in (but is not limited to) the following: warnings, disqualifications, getting banned from future tournaments. If you encounter any breach of these rules while taking part in this tournament, take screenshots and contact the tournament host (on the Colonist-io Discord- server);
You are responsible for all the actions taken on your account and only you are allowed to play on your account.
Abusing different glitches, cheats or non intended bugs in-game will disqualify you instantly.
All actions that are in "bad faith," that is, not in the friendly, polite spirit of this tournament are prohibited. The host reserves the right to judge whether actions are taken in "bad faith" and assign consequences accordingly.
The time table for this Settlers of Catan tournament can be found below. Rounds start at this exact time.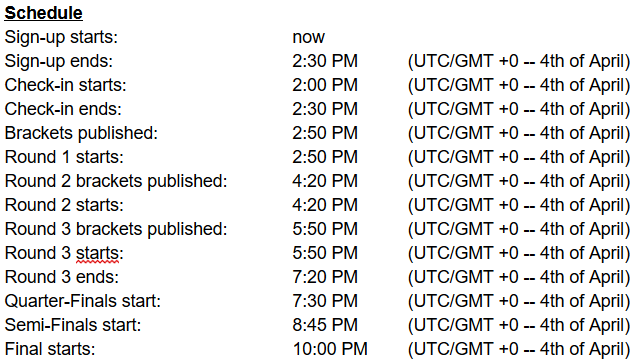 And what can you win, next to the fame and the "Hat"?
Prize pool (provided by Colonist.io)
Total: $350,-
Winner: $40,- (+ a Founder's Pack)
Finalists: $20,- (+ a Colonist's Pack)
Badges
Tips & Tricks:
Like I promised, a few tips to help you win the Colonist Championship 5. Before reading I want you to keep in mind, I've made three King of Catan-finals and I'm a Grandmaster on Catan Universe. I don't say this to brag, but I want you to trust the tips I'm giving.
Enjoy :)
The Dynamics of the Rarest Resource
You can determine the scarcity of a resource by counting the amount of pips each resource has.
6/8 = 5 pips
5/9 = 4 pips
4/10 = 3 pips
3/11 = 2 pips
2/12 = 1 pip
In the Base Game: Ore and Brick have three tiles, where Sheep, Wheat and Wood have four tiles.
So on average, Ore and Brick are more rare.
However, you still need to count the pips. If wood has the numbers 10, 3, 11 and 12, it only has 8 pips and Brick is likely to have more pips.
So, if you're faced with the decision to pick between a 9/5/10 and a 6/5/11 (both 11 pips), you want to look at what rare resources you can pick up!
Take Your Time for Each Turn
You want to take your time for each turn, so you don't forget to do something.
There's no need to play slow, but you want to implement a system in which you look at your own options and your opponents'.
You also want to decide your objective(s) before you roll the dice!
Here's my system:
Select objective
Knight before roll?
Roll
What I plan on doing, is it the best I can do?
What are opponents' short-term objectives?
Look for beneficial trades
Build settlements or cities
Calculate the odds of losing cards to a robber
Is that bad?
Build roads or buy development cards
Make 'okay' trades to prevent a 7-out
Build roads or buy development cards
End turn
"Great plays take great patience."
Players often don't like it when you take a lot of time.
And again: your goal is not to take a lot of time, your goal is to make the right play! You don't want others to think you're ruining their fun.
When someone points out I'm taking too long, I don't go for arguments like "you just need to play better" or "have patience", but something a lot more tactical.
One of these options is the sentence "great plays take great patience".
It often makes people laugh, which snaps them out of the frustration of waiting.
Humor is an effective mean and "great plays take great patience" is something Yoda or Dumbledore could say haha.
Another sentence I reply with is: "you're right. I'm taking too long, but I just want to do things right, so I don't ruin the game for everyone."
This sentence has the following set-up:
Acknowledge your mistake
But... (positive intent)
Their advantage with this method
The order is very important here, because you want the focus to be on what