Colonist 101: How to Play
Whether you're new to the Settlers of Catan board game or a veteran player new to our online game Colonist, we have you covered with this quick start guide.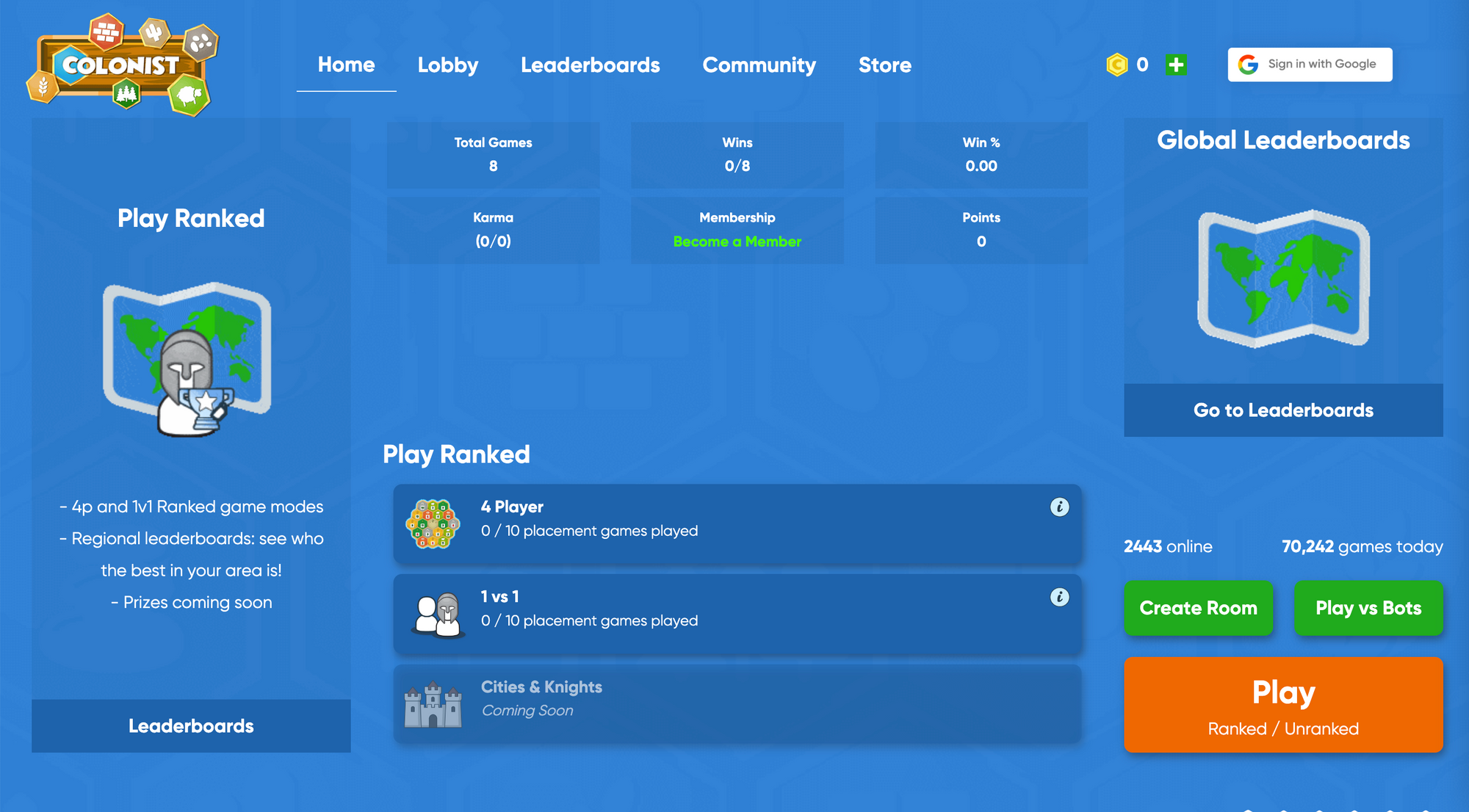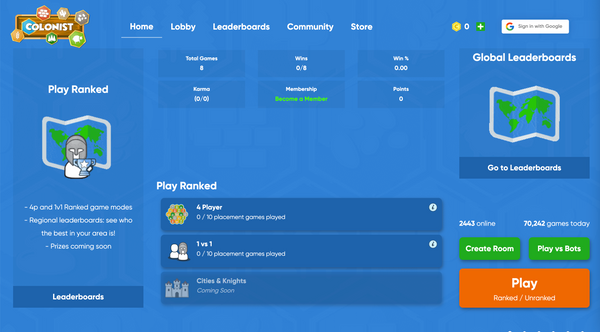 Welcome, Settler!
Whether you're new to Settlers of Catan or a veteran player, we've got you covered with this quick start guide to Colonist.
Let's jump in!
---
Welcome to Colonist
Colonist is a browser-based alternative to Settlers of Catan, one of the most popular board games ever created.
Clicking the 'Rules' button at the bottom brings up a pop-up window where you can read up on the rules or watch a short video we prepared to show you how an actual game progresses:
Colonist is a game you can get into fast. Once you have the basics covered, the strategy gets very interesting quickly!
Ready to play? Click on "Play vs Bots" to start playing with our AI.
Colonist Game Modes
Colonist is best enjoyed with other players. Hence, we created different game modes so you can play with people who like the same game type as you.
Our lobby lets you quickly switch between game modes depending on your preference.
Let's walk you through it one by one: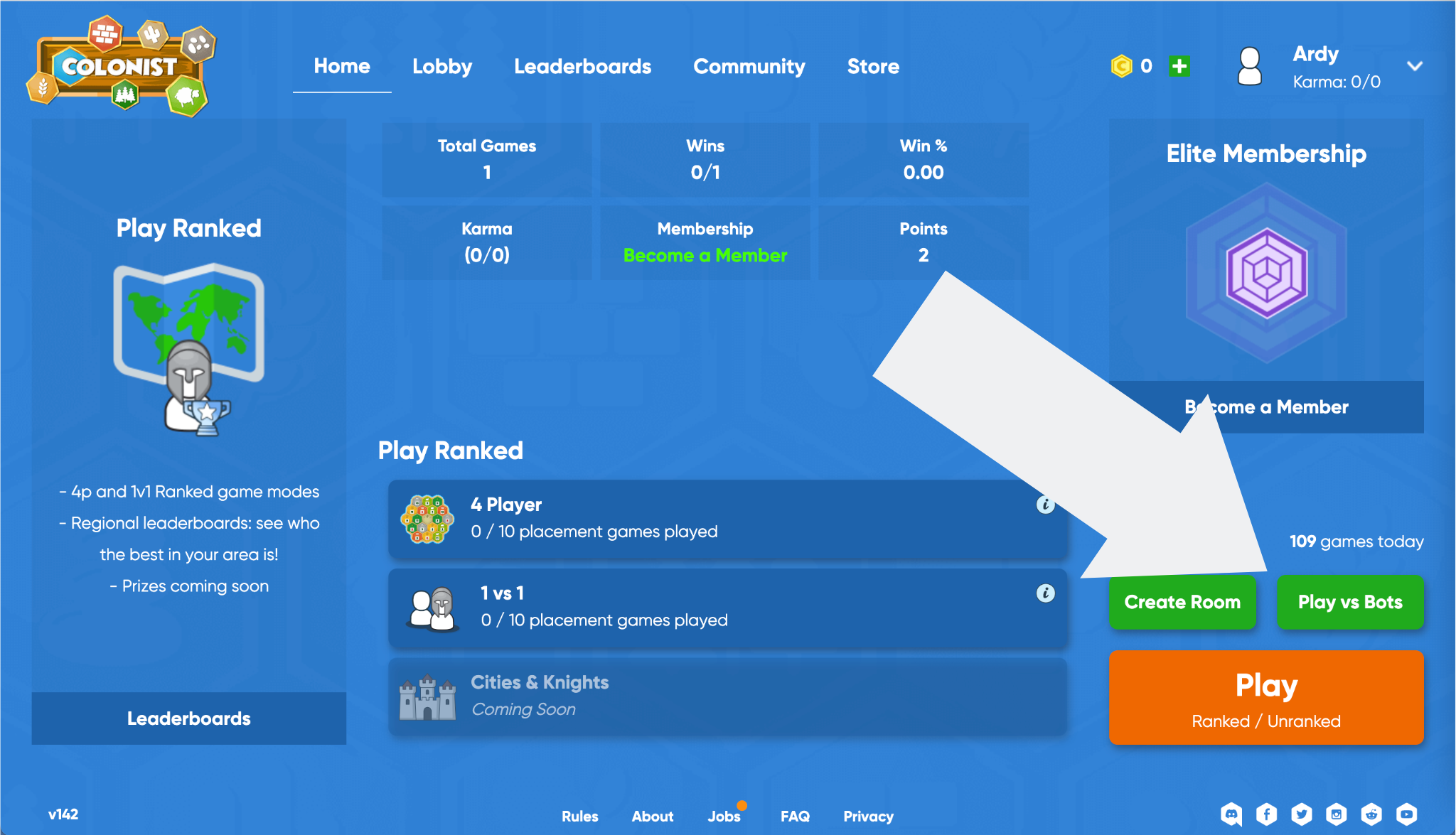 Play vs Bots is for players familiar with Settlers of Catan but new to Colonist.
This game mode pits players against our AI on a random Colonist map.
Play vs Bots is a fast-paced mode for those who want to practice and test out their game strategy, get familiar with Colonist's gameplay, or have a quick game during break time.
Some of our players finish games in this mode with record times under 4 minutes.
Now we can get into multiplayer Colonist!
Enter matchmaking to join a classic game against four random opponents. This is the fastest way to get a game against real opponents on Colonist.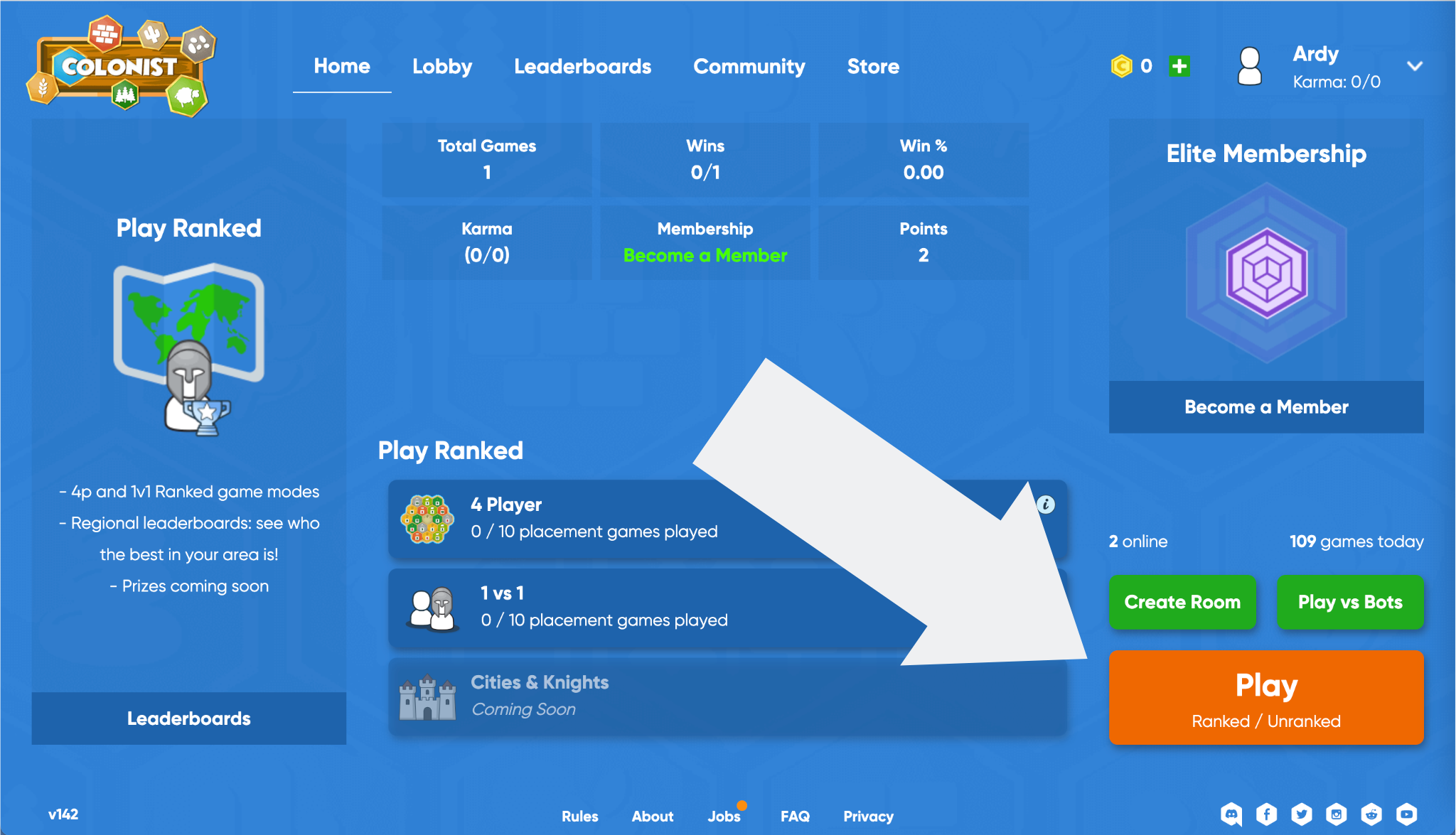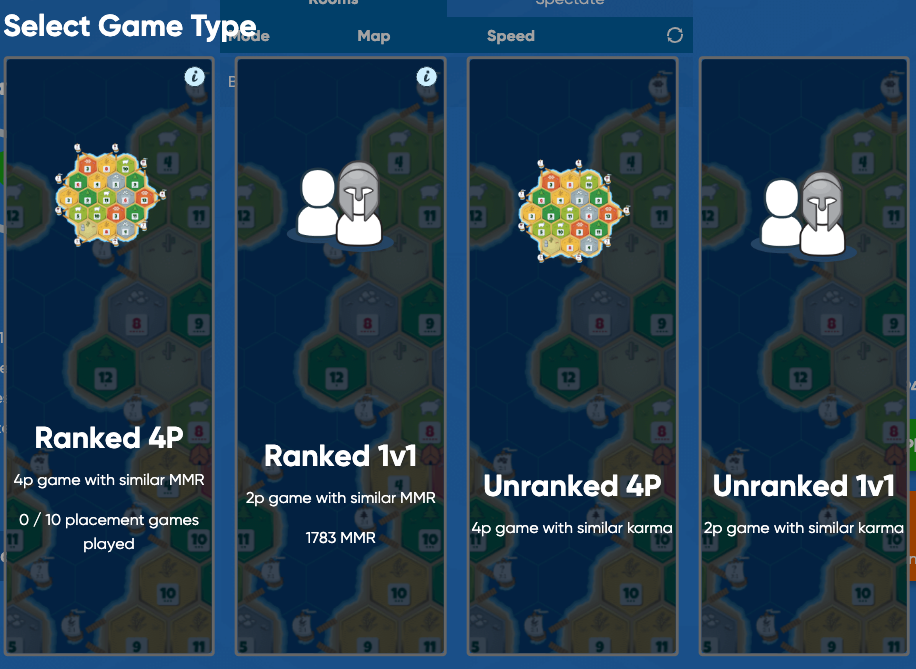 Alternatively, you can create a room or join an existing room in the lobby.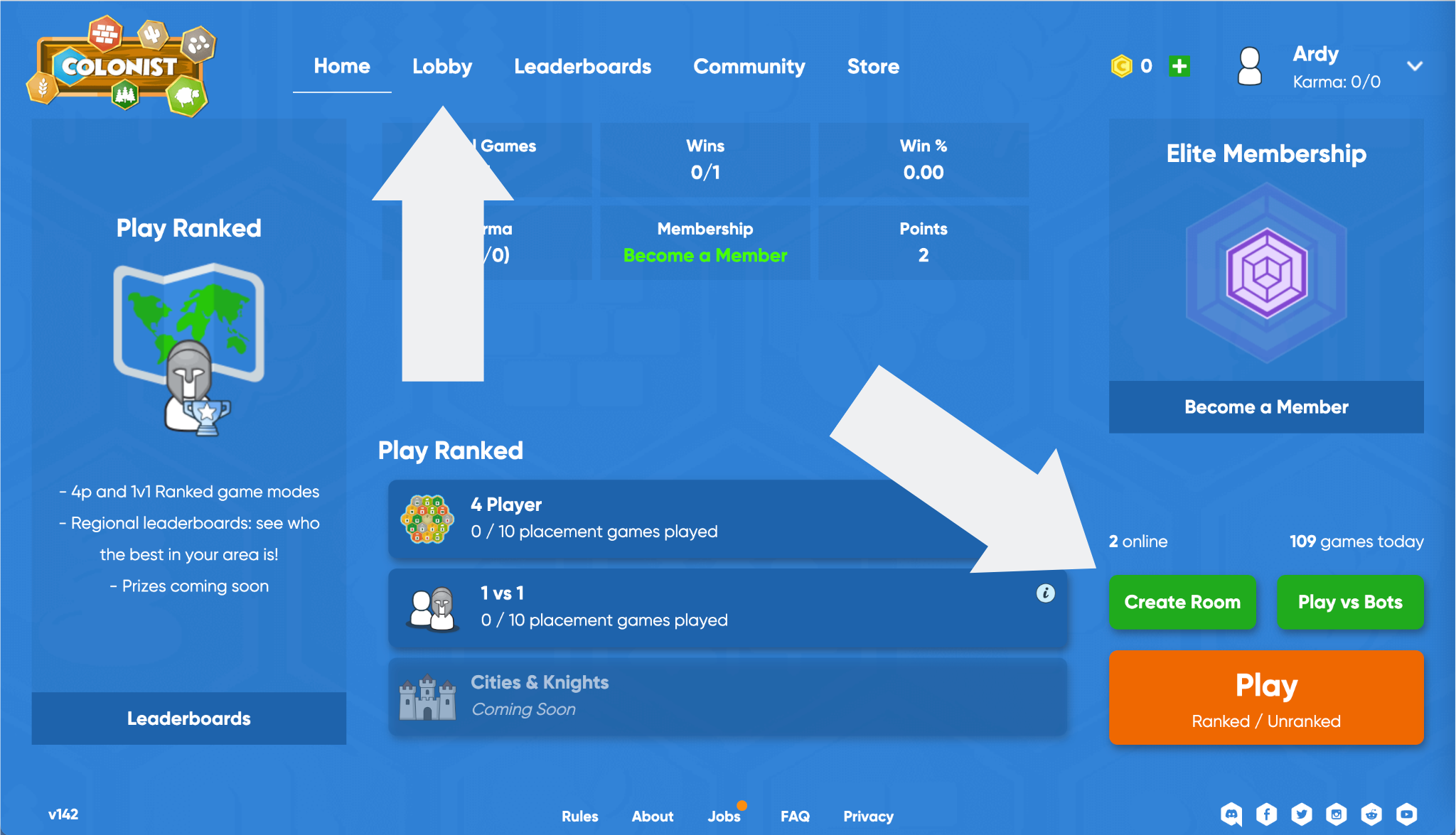 As the host, you can set different options like the number of players or game speed.
Once all players check the "I'm Ready" box, the host can press "Start Game" to begin.
Ranked games are the newest game mode on Colonist. Ranked is intended for competitive players who want to compete for a spot on the official Colonist leaderboards.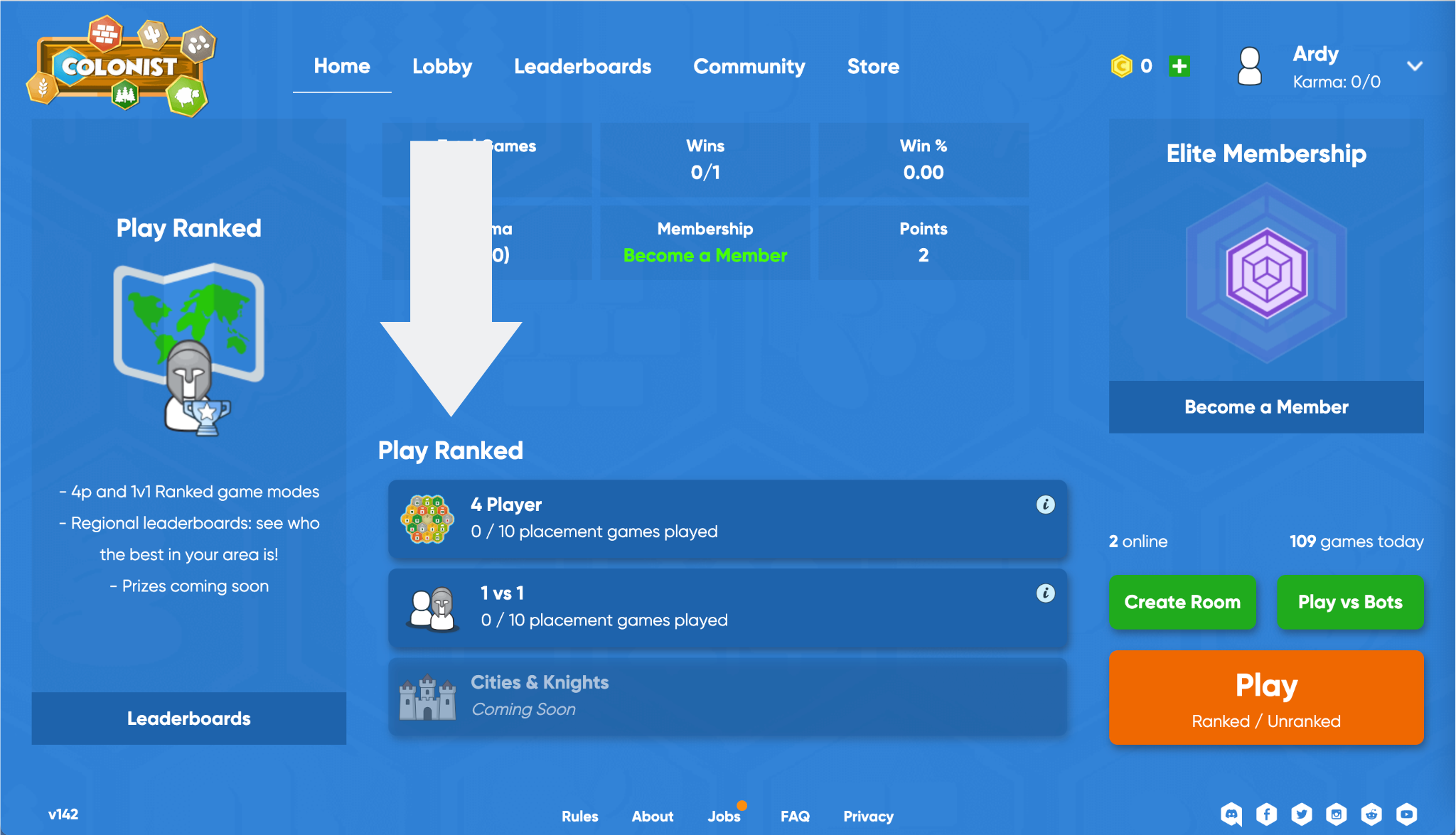 Players' MMR [match-making rating] is determined by their first ten ranked games, coined "placement games." Once placement games are complete, players will be automatically placed in games with opponents of a similar MMR. Compete and win to move up the leaderboards!
Feedback and Suggestions
Here at Colonist, we crave feedback and suggestions from our players. Therefore, we have a suggestions site where you can upvote other users ideas or even submit your own. We sincerely appreciate everyone who votes and/or makes submissions on the site - players like you are what keeps Colonist getting better with each new version!